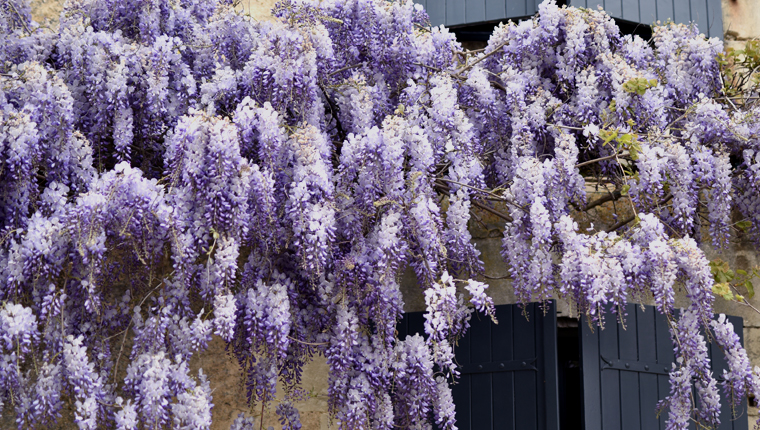 On embracing the blues
Posted on Apr 25, 2023
Photo: The perfect aid to thinking deep thoughts. The Boyfriend
Bonjour/Hello, you are, no doubt, eager to learn how the bedroom decoration is progressing. I would Iike to say well. But I cannot. For it is on the precipice of becoming a saga. Or even a Saga. SAGA? If the smallest room is taking such a time, how long might the other, larger, rooms take? 
I need a sit down just to think about this. So I do. Beneath the wisteria and among the irises, the lilies and the soon-to-flower peonies. I love wisteria, irises, lilies and especially peonies. How did she, the last owner but one, know to plant my favourite flowers? I close my eyes, turn my face to the sun, and prepare for a stint of concentrated thinking, lulled by the soothing drone of bees. 
And console myself by a lively imagining of the completed room, in all its glorious blueness and blue gloriousness. Yes, I do mean blue. Quite a lot of it. Even though I have made it very clear that blue is not my colour, the house seems to have other ideas. For beneath the ubiquitous battleship grey, we found blue. Absolutely, definitely not my tint of blue but a blue nonetheless. 
If you asked me, I would say that I decided on a blue for this room because of my textiles. Not unsurprisingly all of the decor in the house is planned around the colour palettes I use in my designs. There is a blue in every single one.  And because of an artwork, a gift from a good friend. And also because I have a blue metal bed that I bought almost 30 years ago. I had wanted a black one, but it was a bargain. I had little money and was in desperate need of a bed at the time. Still I kept it. The blue also has the virtue of allowing the ensuite bathroom, mercifully not a battleship grey, to remain as it is. 
How fortunate we are that we live at a time that we can both wear and surround ourselves with any colour we choose. Now that a colour is no longer an attribute of something, such as blue of lapis lazuli or the red extracted from the unfortunate cochineal beetle; now that colour is an abstract, an idea; now that we can apply colour to pretty much anything; now that we can make any colour under the sun, and then some; now that we ordinary folk can afford to buy it. Now, we have the luxury of declaring that a colour is not our colour. Truly, that is a luxury.
We are surrounded by such a variety and intensity of colour, both natural and manufactured, that we perhaps don't notice how wonderful that is, how it both lifts the spirit and calms the soul. No colour should be singled out for opprobrium. 
"Mere colour, unspoiled by meaning, and unallied with definite form, can speak to the soul in a thousand different ways." – Oscar Wilde
The secret, I have found, to loving every colour is to find the tint or tone or shade that speaks to you. So… the blues are absolutely, definitely my colours. 
A bientôt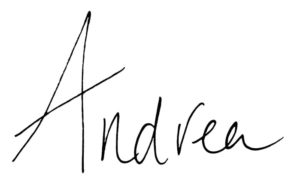 ________________________
If you would like Musings to pop into your inbox every month, you can
subscribe here.